THE UNDERTAKER
When we talk about the wrestlers one most famous, common, well-known wrestler came into mind is undertaker the real name Mark William Calaway. He was born on 24 March 1965 in Houston, Texas. He is famous for his Wrestling profession and all-time favorite player of all age groups.
EARLY LIFE
Undertaker was interested in games from his early life and therefore he joined basketball and football teams in his high school. After completing his graduation, he started studying at Angelina College on a basketball scholarship. In 1985 he took admission in Texas Wesleyan University, and his major subject was sports management. He played in the 1985-1986 season as a central player from his university. Undertaker dropped his studies to focus on the sports career and he was very much interested to choose a basketball profession in Europe but later on, he decided to choose a wrestling as a profession.
Career:
His debut in wrestling career was done in 1984 for WCCW. He initially chooses his ring name Texas Red and he changes different ring names by the passage of time.
HE joined world championship wrestling WCW in 1989 and given the name wrestling moniker Mean Mark Callous. But WCW did not renew his contract and then he joined WWF now known as WWE.
After joining the WWF he adopted the name The Undertaker and give debut on 22 November 1990. He gave this debut as a mystery partner of Ted DiBiase's Million Dollar Team.
In 1991, he defeated Hogan and win his first WWF championship and became the youngest WWF champion in the history.
Due to a back injury, He couldn't feud for several months. But, when he returned for the survivor series he defeated Yokozuna in a casket match.
In 1998, The Undertaker and the reigning WWF champion defeated Kane and Mankind; and win the Team Championship.
In late 1990's he suffered from severe thigh injury called Groin Injury for which he took some off from wrestling. After his comeback in early 2000, he took a new biker's identity. In 2001, He defeated Van Dam to win the Hardcore Championship in WWF.
In 2007, Undertaker won his first Royal Rumble match and that's what the year was considered a lucky one for him.
He won four times in WWF – 1991, 1997, 1999 and 2002
One time Hard-core Championship in 2001
He won USWA in 1989.
Personal Life                         
Undertaker has four children from three wives, his first wife was Jodi Lynn and have a one son from her. They both divorced in 1990
His second wife named Sara whom he married in 2000. They have two daughters but later on, they divorced too.
His third wife was also a former wrestler named Michelle McCool, in 2010 and they have one child.
Undertaker performance was royal rumble match in 2007, considered by his fans as the best performance and exciting one. He won the title by eliminating highly popular wrestler Shawn Michaels.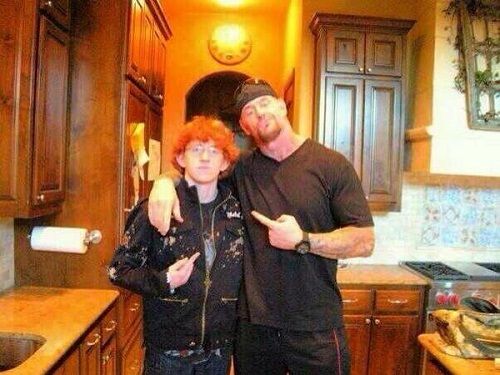 After joining the Wrestling as a profession, "The Undertaker" proved himself as one of the best wrestlers who performed for the two decades successfully in the history of WWE.
At the peak of his career, he eclipses all the big wrestlers in which; Shawn Michaels and Ric Flair considered as best in-ring specialists; and the trio of Austin, Rock and Hulk Hogan who were considered as the biggest draws in WWE. Undertaker long wrestling period and his status as the main vent draw throughout his tenure put influence over the public that he is best in all.